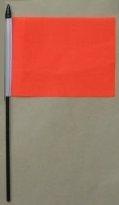 Small Solid Color Flags
Buy Small Solid Color Flags in a variety of 15 colors. These 4"x6" flags come mounted on a 10" staff with matching spearpoint and are made of 100% polyester.

Our small flag blanks offer great quality and are available in; white, black, red, pink, orange, green, blue, yellow, purple, burgandy, magenta, navy, neon, etc ..

All small solid color flags are in stock and normally ship within 1 business day ..