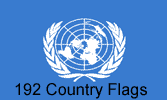 United Nations Flags
United Nations Member States Flags:
Our United Nations Flags are made of 100% polyester material, printed in bright brilliant colors for long lasting beauty, and are suitable for both indoor and outdoor use.
Each flag comes mounted through a stitched sleeve to either a black plastic or
wooden staff with spearpoints. Supplying top quality UN Member Flags since 1989 ...