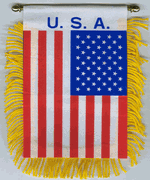 Standard Mini Rearview Mirror Flags
( Choose in any assortment from over
225 Countries )

Exceptional Quality at Great Prices.
Hang from the rearview mirror or use the
suction cup provided. These mini flags are a great way to show your heritage.
Each flag measures approx 3"x 5" and comes individually packaged for displaying.
imported...

ITEM NO: #Standard Mini Banner- 3"x 5"