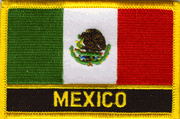 Country Flag Patches with Name
( Choose in any assortment from over 225 Countries )

Exceptional Quality at Great Wholesale Prices.
These 100% machine embroidered patches are the highest quality flag patches available. Each patch measures approx 3.5" x 2.25" and comes with a gold border. Iron on or sew them on.
imported...

ITEM NO: #IP-name- 3.5" X 2.25"